Protein-protein interactions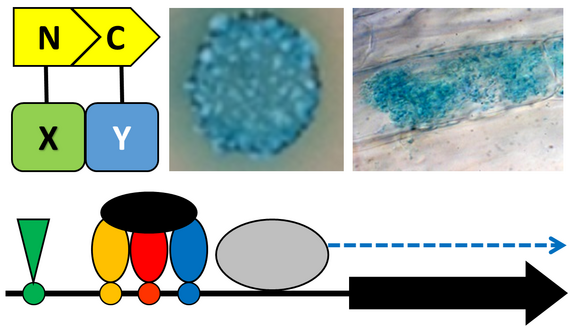 To uncover the regulatory networks controling initiation and development of the arbuscular mycorrhiza symbiosis, protein-protein interactions are performed in yeast or in transgenic plant systems.
Protein-protein interactions
Regulatory networks controling the initiation and development of an arbuscular mycorrhiza (AM) symbiosis involve the interaction of different classes of transcription factors (TFs), primarily belonging to the NF-Y, GRAS, AP2/ERF, and Myb categories.
To identify protein-protein interactions amongst selected, AM-activated TFs as well as between those TFs and their target promoters, yeast-2-hybrid (Y2H) and yeast-1-hybrid (Y1H) experiments are performed.
To verify such protein-protein interactions in planta, split-YFP fusions of selected, AM-activated TFs are expressed in transgenic Medicago truncatula roots or Nicotiana benthamiana leaves.